HEAVY DUTY TRUCK LIFT | LKW HEBEBÜHNE (WIRELESS) 22.000 kg

Mobile column truck lift – LKW Hebebühne
Constructed with an extremely strong and robust technology
Wireless control
Can be connected with several lift columns up to 88 tons
Hydraulic lift
Built-in battery/charger
TÜV – CE (EN1493) approved
Only Export
€ 17.600,- EX. VAT
0,00 kr. inkl. moms
0,00 kr. ekskl. moms
Mobile column vehicle Truck Lift | LKW Hebebühne
Delivery time 3-6 days
Lonet.dk now presents the hydraulic mobile truck lift.
The lift consists of 4 columns, which together have a lifting capacity of 22 tonnes and is an ideal truck lift where space is limited
The fast lifting speed of 2 cm per second is characteristic of this technology.
The truck lift is easy to move and can be used anywhere with solid, firm ground.
With microprocessor and proprietary software for synchronous and smooth lifting and lowering of the heaviest vehicles, even if the load is unevenly distributed.
All system parameters including lift height and remaining battery charge for each column are continuously displayed in each lift column.
This mobile truck lift system can be combined with 2, 4, 6, 8......16 columns and each column can be raised or lowered individually, in pairs or all columns together.
All lifting columns are equipped with a controller with LCD display, a 24V hydraulic pump unit, 2 rechargeable batteries and a charger. It is therefore possible to start with 4 lifting columns and add 2 or 4 extra lifting columns later. Each lifting column is autonomous - can be combined and extended as desired.
CE (EN1493) approved
Low maintenance - Robust hydraulic technology
Wireless and battery powered
24 V electric hydraulics
Can be expanded with a further 2-4-6-8...... 16 columns
Adjustable forks - can be adjusted to individual wheel sizes
Continuous display of remaining battery charge
Locking and slow lowering functions
Switch to single-pair operation of all columns on each column
Each lifting column contains two DC 24V batteries and a battery charger (230V)
Powerful guide bearings and a safety lock in each lifting column
Procedure for lowering the lift in the event of a power cut with integrated hand pump
Automatic mechanical safety lock every 3.5 cm with electromagnetic release
Hydraulic check valves prevent sudden lowering in case of leakage or damage to the hydraulic system
Includes a self-calibration and self-diagnostic trouble code system
All columns stop immediately if errors are detected
Simple, robust and low maintenance technology
Need a more powerful truck lift? - Then have a look at the Mobile column vehicle Truck Lift 30.000 kg LDK75HW/30 - See more here
Need a more powerful truck lift? - Then have a look at the Mobile column vehicle Truck Lift 34.000 kg LDK85HW/34 - See more here
Ideal auxiliary tool is i.a. axle support / trestle for truck - This frees up the individual lift, you can work freely on wheel bearings, brakes etc. SEE MORE UNDER THE TAB: ADDITIONAL ACCESSORIES - Here are more axle supports, among other things, Cross boom 11T, as well as Ramps for forklifts
We have a larger selection of truck lifts and truck tire machines.
Please take a look at our webshop.
We are working on getting more products translated on the site into English and German.
If you find something of interest, please contact us

Technical data
| | |
| --- | --- |
| Lifting capacity (4x5500 kg) | |
| Pr. column | 5500 kg |
| Engine power/Hydraulic pump | 2,2 kW / 24V |
| Adjustable between lifting forks | 16,6 - 85 cm |
| Wheel diameter | 33 - 115,6 cm |
| Lifting height | 0-1800 mm. |
| Lift time to peak (average) | |
| Lift time (average) | |
| Number of batteries per column | 2 stk. / 24V DC |
| Battery capacity | 25 x op og ned |
| Electrical connection | 230V/50 Hz |
| Dimension per column | L132,8 x B111 x H237 cm |
| Own weight (4x500kg) | 2000 kg |
| Color | RAL 7016 |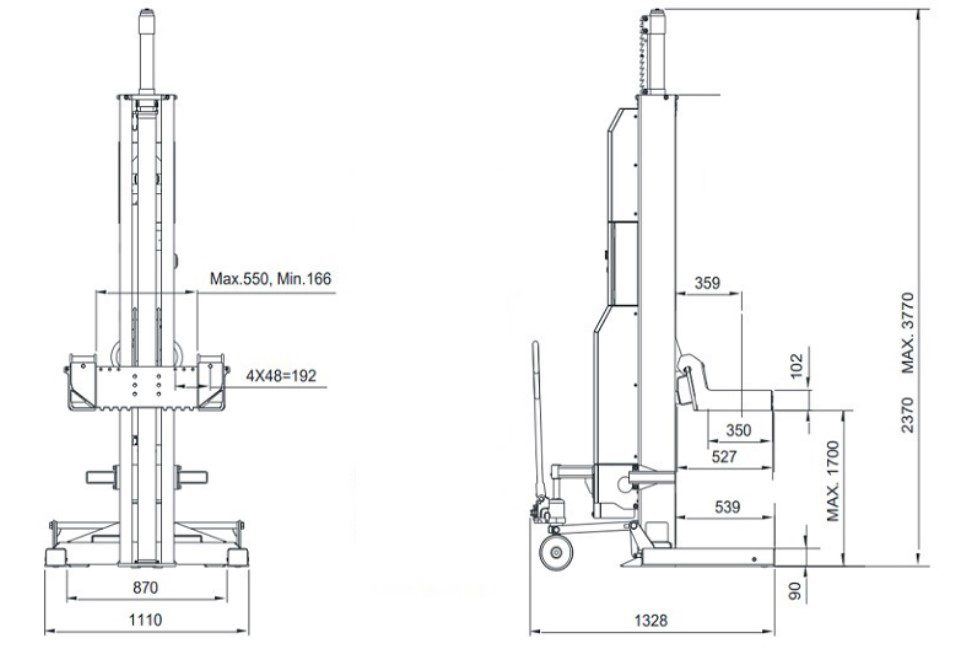 Delivery scope     seemore 
4 pcs. complete mobil lift columns incl. oil
Use and installation instructions
Approval and CE certificate